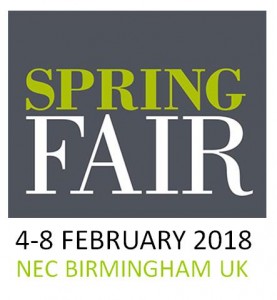 We will be ending our current trade show season with a trip to the Birmingham NEC for one of the biggest trade shows of the year Spring Fair 2018. Stated as a "must-attend for all kinds of people. For independent shop owners, for multiple shop owners, for online suppliers, for department stores", this event is an ample opportunity to get a truly great look and feel at our Current and New additions for the Spring/Summer18 season.
The event takes place during the 4th and 8th of February 2018. We will be set up in Hall 19-20 and at stand 20J21-H20, so if you are attending we would love to see you there. More information on the event and registration information can be found at https://www.springfair.com . This is our last trade show attendance until the Autumn/Winter 2018 season, so this is your last opportunity to give feedback on our new and current ranges.
Similar to Giving and Living we will be offering information on any sales trends and news shortly after the event is finished. So if you unfortunately cannot attend then we can still showcase what was popular and what styles you should be looking at for your Spring/Summer18 buys.