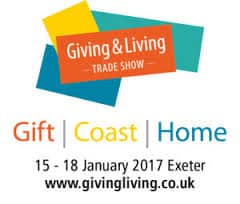 It's that time of year again as we head off across the country attending trade shows and showcasing our superb ranges both new and current. First up is Giving and Living 2017 in Exeter between the 15th and 18th of January next year.
You will be able to find us in Hall A and at stall A305 where we will be waiting patiently to help with any ordering and general enquiries. With the new Spring/Summer 2017 catalogue coming out very soon, this is a prime opportunity to see and feel our stock for next season along with viewing our previous ranges. We always enjoy getting your feedback as it allows us to bring you the best products we can season by season.
Registration is free and more information about the event can be found at http://givingliving.co.uk/visiting/registration/. From here we will be heading to the Birmingham NEC for Spring fair 2017 from the 5th to the 9th of February. Please note that these two trade shows are the only ones we will be attending this season, so make sure you use these opportunities when you can.
Those that can't attend needn't worry. We will be offering feedback through this newsletter on what the bestselling lines were and what the best feedback was from the event.