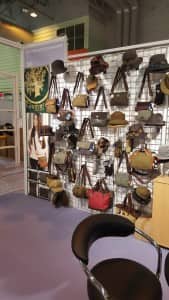 Continuing with our trade show season, this month we have just recently got back from Moda at the Birmingham NEC. It was a wonderful experience and we would like to take this opportunity to thank those of you who were able to visit us over the three days.
Naturally with the Autumn/Winter season moments away, many of the customers who came to see us at Moda 2016 were preparing for the harshening weather conditions. We therefore saw trends in hats that would keep heads warm and dry when the temperatures dip. Our biggest seller at the show was our range of Harris Tweed caps EHT1. These remain a favourite year on year, featuring the famous Harris Tweed material that brings with it tradition and heritage. Our second biggest seller was our AK62, a more lightweight version of our Aussie style hat that is perfect for any outdoor junctures.
As with Home and Gift 2016 last month faux fur was very popular as a material, which is perhaps understandable since it keeps heads and ears cosy over the winter months. AW110 and AW141 in particular were very popular. As were faux fur fleece hats like A323 and A342. Style for next season was also catered for thanks to the purchases of our popular women's beret A419.
We also had plenty of sales from our children's collection. Novelty hats like C401, faux fur hoods like C310 plus babies' hats like B228 were much favoured during the event. Finally we had sales on gloves like the traditional GL25/L and the tweed GL70.