Product showcase-Ski Hats
Posted on August 27th, 2015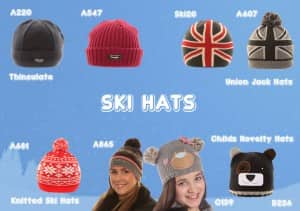 With the summer season sadly coming to an end, it's time to focus on adding to your Autumn and Winter ranges. Our Autumn/Winter hats range from trappers to country hats, which are that ideal mix of practicality and style. This time we will be focussing on our varied range of ski Hats.
Available for order and dispatch now, our ski Hats are an assorted range of colours and styles that would suit any number of situations. First up is our ever popular Thinsulate range. These hats such as A220 and A547 are created from thick, strong materials which help the wearer keep warm in those worsening weather conditions. They're also offered to you at affordable prices and we have an extraordinary range to choose from.
Also providing great warmth and durability are our knitted ski hats, which can protect those ears while still providing a sense of style. Featuring vibrant colours and striking patterns, knitted hats such as A865, A681 and A612 are true standouts, proving to be popular year on year. Our oversize chunky knit beanie A908 in particular is wonderful for providing much needed warmth.
Children are also catered for with our many novelty and animal ski hats. Our popular Jiglz brand name, offers children bear hats such as C172, C139 and B226 featuring cute animal faces and pom-poms which appeal to younger minds.
Finally our ski hat collection wouldn't be complete with our union jack themed ski hats including the new addition SKI20 along with old favourites like A607 or C405. Hats such as these are made from either high quality Acrylic or polyester yarn, making them durable and long lasting.
Posted in Latest News | No Comments »