New Ladies tweed bags
Posted on August 27th, 2015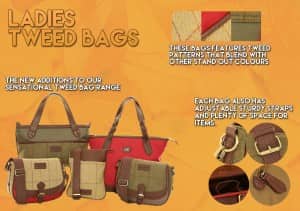 This month we would like to bring to your attention our newly designed tweed bags for the new Autumn/Winter collection which are causing quite a stir already. Tweed as a material is rich in history and heritage with an excellent reputation.
New tweed bags such as LB33 and LB37 are particular standouts with their Mid and Light green colours and faux leather patches. Brighter options include LB39 and LB37 which feature more enticing reds and browns on both the front and back. These neutral colours also mean that the bags would go well with any outfit.
These bags offer a range of differing shapes and sizes, making them practical for any situation from shopping to holidays. LB33 for example is a smaller cross body bag so is more suited for those essential items. Whilst larger bags such like LB35 and LB39 are more ideal for shopping or holidaying.
Every bag features plenty of space and compartments along with soft lining to protect those precious items. Some feature adjustable straps and buckles, making them one size fits all and allowing the wearer to create a comfortable fit, whilst others feature sturdy handles.
Available very soon and being sold in packs of 2 under the Hawkins brand name, these tweed bags will remain popular all year round, but especially this season when tweed features high in the fashion stakes.
Posted in Latest News | No Comments »